Valves
Adjusting Valves with the engine running
THIS IS ONLY FOR ENGINES WITH HYDRAULIC LIFTERS!!!
The valves were set but needed to be readjusted because one was ticking. The following procedure will work for valves just needing a minor adjustment. Follow the shop manual if the rockers have been removed!
We cut a slot in an old valve cover with an angle grinder to allow access to the rocker nuts. The cover was cleaned and deburred to remove any metal or particles that might drop onto the heads.
The engine is started and warmed up. The rocker nut is lossend slowly until the valve starts to tick. Then the nut is tightened until it stops ticking and adding 1/2 to 3/4 turn will put it at zero lash.
The idea here is to compress the plunger in the lifter about .060. This will allow the lifter to function properly and keep the valvetrain quiet.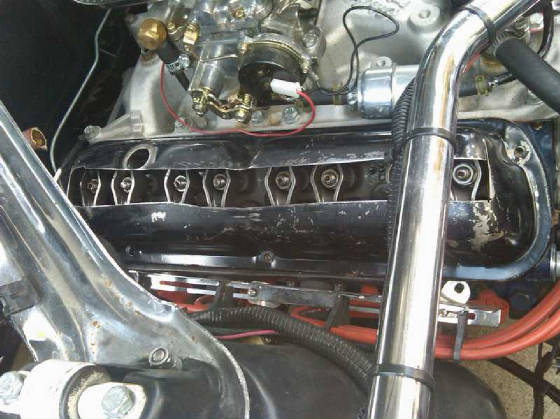 Chris had a 5 foot hose and put it to his ear and the other end close to the valve I was adjusting. He would tell me when it started to click (loosening) and when it stopped (tightening). I then tightened it 1/2 a turn more very slowly.